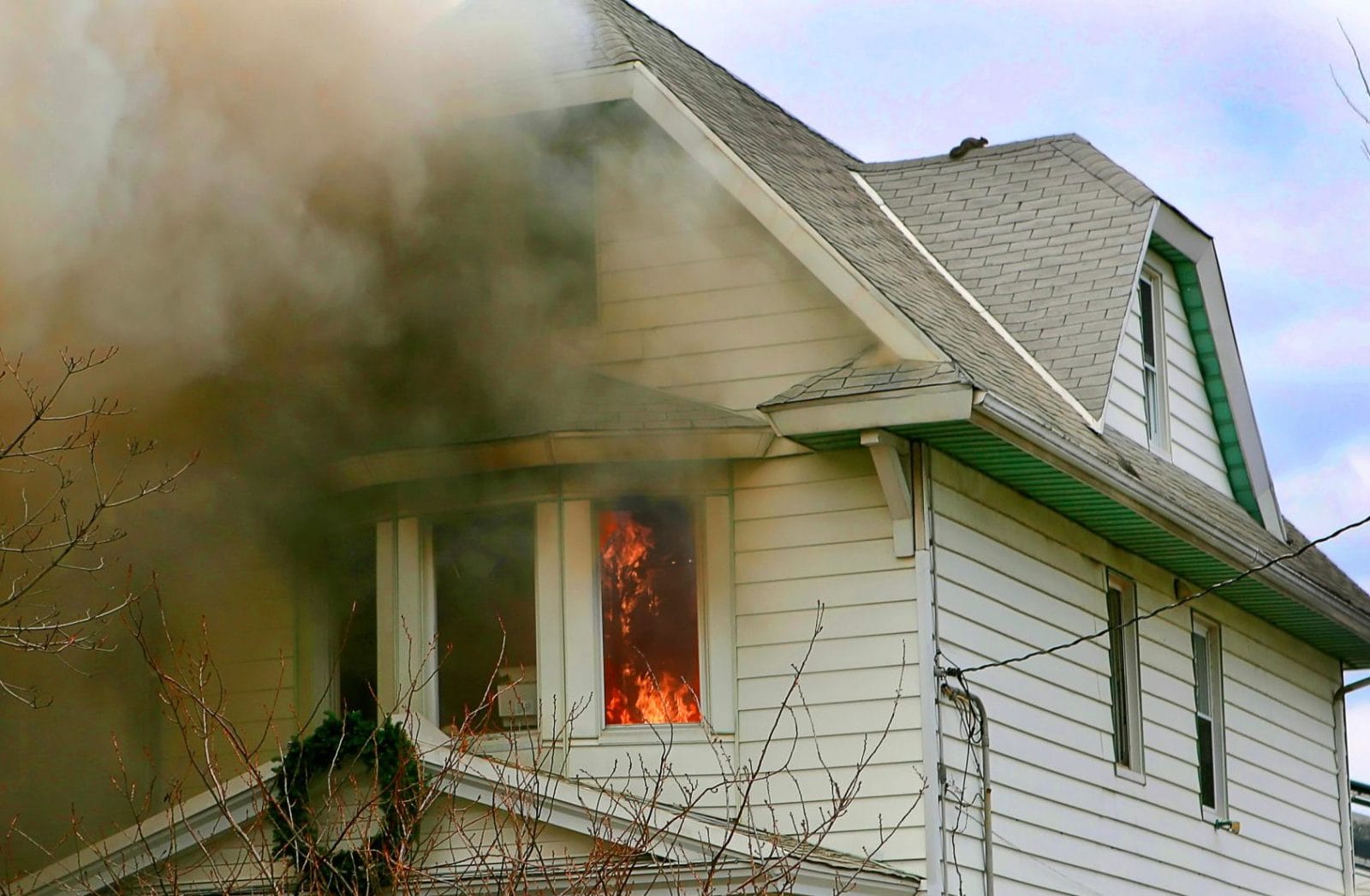 Get your home back after fire damage with our restoration specialists.
Fire leaves homeowners devastated. A small mistake or an unknown frayed wire can cause significant damage to a home. At 5 Star Restoration Specialists, we recognize just how trying this type of situation can be for you. That is why we offer comprehensive support and guidance to you when a fire occurs. Our fire damage services in Waukegan, IL, and the surrounding area are designed to make cleaning up and restoring your home after such an event as easy as possible.
After a fire, any water remaining needs to be extracted immediately to prevent mold damage. We can also assist with the board up, removal of debris and working with your insurance company for complete restoration.
5 Star Restoration Specialists is ready to assist. We have technicians ready to be dispatched and can be at your home or business within 45 minutes to start the water extraction.
I can't say enough about Five Star Restoration Specialists. After I experienced a devastating fire in my condo, their team arrived within an hour of my call. They were highly recommended by friends and colleague for their rapid response, performance, and professionalism. The post-construction cleaning definitely passed the white glove test. I highly recommend this company for those needing any type of restoration and cleaning. FIVE STARS for Five Star Restoration Specialists.
They are professional, prompt, and responsive! They gave a detailed and honest appraisal of the work needed and is began quickly. I have come to hold this company in high regard because of the their responsiveness when I need them most. I have been equally impressed with the quality of their work and professionalism.
Great service and best response time. We need more companies that provide a great service at a decent price. You guys are awesome, keep up the good work!
We got hit with an intense windstorm which caused heavy tree limbs to fall and damage my roof. 5 Star provided excellent emergency response and excellent workmanship. My roof was back to normal quickly and all it took was a phone call.
Get Emergency Fire Damage Help from Our Team
In Lake County, Illinois and the surrounding areas, 5 Star Restoration Specialists provides a 45-minute emergency response guarantee. That means if you are in an emergency situation right now and you need help with fire damage, our team will respond to you immediately and work to be there as quickly as possible. We're happy to help you secure your home and start it on the path of restoration.
Why Fire Damage Is So Significant
In many homes, a fire can cause thousands of dollars' worth of damage within just a few short minutes – just minutes!  We always want to take steps to help you to recover from such a loss. Yet, it is important to understand just how extensive this type of damage can be.
For example, if a fire occurs due to a lightning strike, it can cause structural issues with the walls and ceiling. You may have damage from the roof to the foundation to recover from. But, the fire itself is not the only problem. Smoke damage can infiltrate every area of the home through your heating and cooling system. As it does, it carries soot throughout your home. And, then, when water is used to put off the fire to stop the damage, that water itself causes damage to your home.
Because of how complex such damage can be, it is always best to work with an experienced and trusted company capable of providing full fire damage restoration services to you. At 5 Star Restoration Specialists, we can do this and much more for you. With over 10 years of local experience, you can depend on our technicians to be there for you immediately.
What to Do After a Fire
When a fire occurs, your first step should always be to leave the home. Then, call the fire department. Even if the fire is small, they are far more efficient and effective at ensuring the fire does not spread. Once this occurs, call 5 Star Restoration Specialists. Our team can be there quickly to begin the process of restoring your home. We will also work with your home insurance company to help you to get a claim filed for any damage.
5 Star Restoration Specialists works closely with your home insurance company. We provide a full assessment of the damage. We gather information about the cause and offer information to your agent to complete your claim. We also are happy to bill your insurer or work through you – all with the goal of facilitating a fast restoration process.
Most home insurance companies do cover fire damage. However, your policy limits may be different. Be sure to talk to your agent about your coverage and needs before your file.
How Fire Damage Clean Up Starts
At 5 Star Restoration Specialists, we work quickly to stop the damage from worsening while also working to protect any of your assets possible. It is always our goal to help ensure your home is well protected throughout the process. This may mean providing boarding up of the home to minimize theft or liability risks.
We then create a customized service plan for your home. For fire damage, this may include any or all of the following services:
Water Extraction and Removal
Putting out a fire requires hundreds of gallons of water. Even if the fire damage to your home is minimal, you will still have to address the additional damage caused by the water used to put out the fire. Depending on the location of the fire, fire department personnel may have to break through walls or the roof to reach the flames, and water may reach areas of your home where there was no fire.
We understand the additional stress that water damage puts on homeowners who have experienced a fire. Unexpected water damage includes drywall, wooden floors and cabinets, ceilings and ceiling tiles, electrical wiring and electronics, and furnishings, including window treatments. That water can also cause mold and mildew in your home — mold spores can start growing within 24 hours.
Our 45-minute response time helps ensure that you'll receive the most potential settlement from your insurance claim. We help document your claim and contact your insurance company. Taking quick action helps protect your home and its contents. 5 Star Restoration Specialists have all of the necessary equipment to remove the water and then utilize fans and dehumidifiers to help remove residual moisture from your home.
Debris Removal
Debris removal after a house fire is a more complicated process than you may have thought. Many household goods, when burned, produce toxic wastes — think about computers, sofas, plastic toys and furniture, insect spray and other household chemicals, batteries, and appliances. Most homeowners insurance pays for some or all debris removal, depending on your coverage. Disposing of toxic debris should be left to removal specialists like 5 Star Restoration Specialists.
Our goal is to help you stop additional damage and protect your salvageable possessions. Not only is there fire damage to your belongings, but water damage too. Debris removal after a fire is challenging because the damage is extensive.
Repairs or rebuilding can't begin until the debris is removed. Our team removes your furniture and belongings — disposing of items that are a total loss — and moving salvageable items to secure storage for restoration. Building materials are removed, including drywall, carpeting and other flooring, appliances, cabinets, and other built-ins.
The 5 Star Restoration Specialists team works to save as much as possible.
Fire Damage Clean Up and Restoration
Once all of the debris is out of the way, our next step is to start the cleanup process. Smoke and soot damage are particularly difficult to remove. However, we have specialized solutions and paint products that can work well. In most cases, damaged materials including drywall are replaced, not covered up. Our goal is to ensure your home not only is safe to use but also retains its value long term.
Cleanup also involves preventing mold buildup. Any surface that has been exposed to the elements or has been wet can be prone to mold development. Our resources work to remove this risk. We cleanse surfaces and, when needed, use mold remediation methods to safeguard your home.
We can also rebuild areas and restore them to their normal state. Every project is different – from whole home rebuilds to making repairs to a small area. However, 5 Star Restoration Specialists aims to keep your home in the best condition possible.
Why Put 5 Star Restoration Specialists in Charge of Your Fire Damage?
If you have fire damage call 5 Star Restoration Specialists first. Our team is there quickly to begin to provide you with fast and efficient service. We are sure to be able to help you remove the damaged materials and begin to make your home safer again right away.
5 Star Restoration Specialists has over 10 years of experience providing fire damage cleanup and restoration services in Lake County, Illinois and the surrounding area. When you call our licensed and insured company, we work closely with you to get your home safe again. Our team has all of the tools and resources necessary to get started right away. In an emergency, be sure to take advantage of our 45-minute emergency response time guarantee. We are there for you as soon as you need us to be to protect your property.
What Happens with Fire Damage Restoration?
Every project is different. Our team works to customize the services we offer to match your needs. Generally, with fire damage, this starts with an assessment. Once the fire is out, our team will arrive at your location for an inspection. Then, we may recommend the following services.
Fire-damaged Material Removal
Fire-damaged materials include those that burned and materials and objects damaged by smoke and soot, and items damaged by the heat that the fire generated. Fire-damaged items include water-saturated items where mold can grow. Your 5 Star Restoration Specialists team members are specially trained to handle the different types of damage from a fire.
Flame-and-heat-damaged items usually can't be saved and have to be removed and disposed of properly.

Smoke contains dangerous chemicals, including ammonia, formaldehyde, sulfur dioxide, and similar substances. These are difficult to remove from upholstered furniture and some other items and will need to be removed.

Upholstered furniture and dining room breakfronts, desks, and curio cabinets can harbor mold if not promptly cleaned by a fire restoration expert.
Hard, nonporous items (like glass or metal) can often be salvaged along with cloth items and clothing which can be washed or specially cleaned.
Cleaning Up the Mess
Cleaning up after a fire is a job for professionals. Toxic chemicals are by-products of fire. Smoke and soot contain tiny particles which may contain PVC, sulfur, or other dangerous chemicals. These tiny particles are deposited in the porous surfaces, including ceilings, insulation, and walls. Don't risk your health by trying to clean up the mess left behind.
Your 5 Star Restoration Specialists team will clean the smoke, soot, and other debris from all surfaces of your house. Cleaning surfaces helps prevent the development of mold. We utilize advanced technologies to rid your home of smoke, smut, soot, and ash
Repairs for Your Needs
Whether your fire was limited to a single area of your home or a large loss, the professionals at 5 Star Restoration Specialists have the expertise and experience to repair, rebuild, and restore your property. We understand the emotional and financial stress you face, and our team members have expertise in fire repairs and restoration. They coordinate the details with you and your insurance company, so your restoration and repairs go smoothly.
Whether your repairs entail drywall repair, ceiling replacement, or hardwood floor restoration, our team never stops working for you. Our fire restoration projects comply with local building codes, and we are a member of the BBB with an "A" rating. Our technicians follow standards stated in the S500 and S550 of the Institute of Inspection Cleaning and Restoration Certification (IICRC).
So whether you've experienced a small fire or a large loss, let the 5 Star Restoration Specialists team coordinate your repairs — based in Waukegan, IL, serving Lake County and surrounding counties for over ten years.
Expect Outstanding Services from Our Team
Did you know 5 Star Restoration Specialists work closely with your home insurance provider? We're happy to help ensure that the work is done properly and according to the guidelines set by you and your insurer. Our team has an outstanding level of experience working with local insurers to meet the needs of homeowners in our area.
You can expect 5 Star Restoration Specialists to provide you with the best support in all aspects of fire damage restoration.
We have over 10 years of professional experience in fire damage restoration.

We are licensed and insured to keep you safe.

Our technicians have years of experience and are able to provide fast, efficient services.

We work to meet your goals – and with your insurance company.
At 5 Star Restoration Specialists, our job is to make fire damage restoration as easy as possible for you and for your family. As soon as you suffer a fire loss, call our team to get fast and reliable workmanship. We are here to help you with all types of care including emergency services. We offer a 45-minute guarantee response time when you are facing an emergency. Call us today.