A Step-by-Step Guide on What to Do if you Find Mold in your House: Mold Remediation
Mold growth in homes is a common problem that can cause serious health hazards and property damage if not dealt with properly. If you discover mold in your home, it is important to take immediate action to prevent further growth and protect your health. This step-by-step guide will help you understand what to do if you find mold in your house.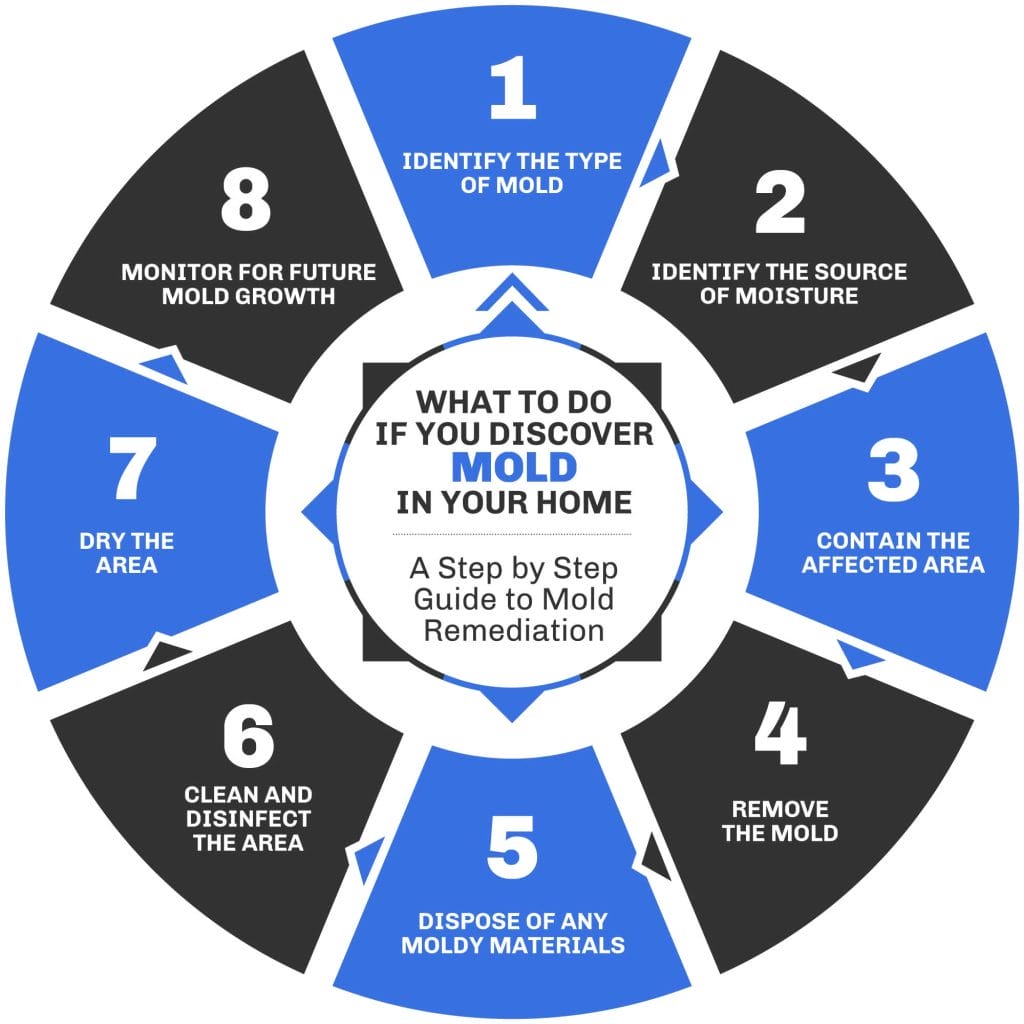 Step 1: Identify the Type of Mold
The first step in what to do if you find mold in your house, before even starting the mold remediation process, is to identify the type of mold. Some molds are harmless and can be removed with simple cleaning methods, while others can cause serious health issues and require professional remediation. You can identify the type of mold in your home by having a professional mold inspector perform a test.
Step 2: Identify the Source of Moisture
Mold requires moisture to grow, so identifying and eliminating the source of moisture is critical to preventing further mold growth. Common sources of moisture include leaks, condensation, and high humidity levels. Once you have identified the source of moisture, you must address the problem to prevent future mold growth.
Step 3: Contain the Affected Area
Before starting the mold removal process, it is important to contain the affected area to prevent the mold from spreading to other areas of your home. You can do this by sealing off the area with plastic sheeting and using negative air pressure to keep the mold spores contained.
Step 4: Remove the Mold
The mold removal process can vary depending on the severity of the mold growth. If the mold is minor, you can clean it using a mixture of water and detergent. However, if the mold growth is extensive, it is best to hire a professional mold remediation company to safely and effectively remove the mold.
Step 5: Dispose of Moldy Materials
If mold has grown on porous materials like carpet or drywall, it is often necessary to remove and dispose of the materials. Mold can penetrate deeply into porous materials, making it impossible to completely remove all of the mold spores. To prevent further mold growth, it is important to dispose of these materials properly.
Step 6: Clean and Disinfect the Area
Once the mold has been removed, the affected area should be thoroughly cleaned and disinfected. This will help to eliminate any remaining mold spores and prevent future growth. It is important to use a disinfectant that is specifically designed to kill mold.
Step 7: Dry the Area
After cleaning and disinfecting the affected area, it is important to dry the area completely to prevent any remaining moisture from promoting further mold growth. You can use dehumidifiers and fans to speed up the drying process.
Step 8: Monitor for Future Mold Growth
Even after the mold remediation process is complete, it is important to monitor the area for any signs of future mold growth. You can do this by keeping an eye out for any musty odors, checking for signs of moisture, and performing regular inspections.
Discovering mold in your home can be a stressful and dangerous situation. However, by following our guide on what to do if you find mold in your house, you can safely and effectively remediate the mold and prevent future growth. If you are unsure about how to handle mold remediation, it is always best to seek the assistance of a professional mold remediation company. They have the expertise and equipment needed to safely and effectively remove mold from your home.
Did You Find Mold in Your House?
Have you encountered mold in your household? You can count on 5 Star Restoration Specialists to evaluate the situation and restore your residence or commercial space. Our team possesses the necessary skills, equipment, and expertise to safely and efficiently eliminate mold. Rest assured; we are readily available to assist you!